A solid customer loyalty program works. That is for sure. Just recently dutch publisher emerce gave us a peek in the kitchen of the new loyalty program 'meer HEMA'  of the major dutch retailer HEMA (700 stores in 7 countries). In 6 months following the launch the online turnover grew with 11% and the company welcomed 56.000 new online customers.  Over 20% of members celebrating their birthday showed up at a store in order to collect the free 'tompouce' (custard pastry).
Read the full story (in dutch) here.
So we are able of influencing our customers behavior. And if you do it right it brings instant turnover and a lot of individual customer data you can use as a marketeer. Now you can really understand each individual customer and have your marketing automation ready to 'catch' him no matter what he does. Way better than your current segmentation and pushmail…*
* Did you know that a loyalty program can boost your email marketing ROI with 200% (!) ?  Let us do the math with you…
VEMT Mid Market Loyalty
For smaller and medium sized companies this works just as well as for HEMA and other major (r)etailers. Challenge of course is that a smaller company also has a smaller budget and less staff / knowledge available.
VEMT Mid Market Loyalty makes solid customer loyalty available for all. Based on open source software (powered by Open Loyalty) every company can now establish a mature, professional loyalty program fixed price, fixed functionality and up and running in 2 months. No surprises.
4 touchpoints

Dedicated acces for every player in the program: eCommerce, POS, Admin and of course the Customer.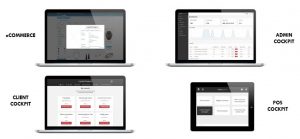 As a company you will have new additional loyalty and gamification features in eCommerce in the eCommerce Cockpit. This setup will be a seamless part of your webshop, helping you to integrate the loyalty functionality.
Customers can also access the loyalty program through the web service on a subdomain where they can interact with the loyalty program – the Client Cockpit.
Administrators manage and monitor every piece of the loyalty program with a dashboard we call Admin Cockpit and the off-line stores can use the POS Cockpit – a mobile friendly web application thanks to which they can register customers and match customer with transactions.
Should you need an additional cockpit like a mobile application – we can easily build it based on existing cockpits.
Magento integration
As we have seen that the majority of midmarket customers is working with a Magento webshop, VEMT Mid Market Loyalty comes including a standard Magento integration. For free!
Are you looking for  a ballpark figure? Call us and be surprised 🙂     +31 20- 717 32 42
* Did you know that a loyalty program can boost your email marketing ROI with 200% (!) ?  Let us do the math with you…
powered by :